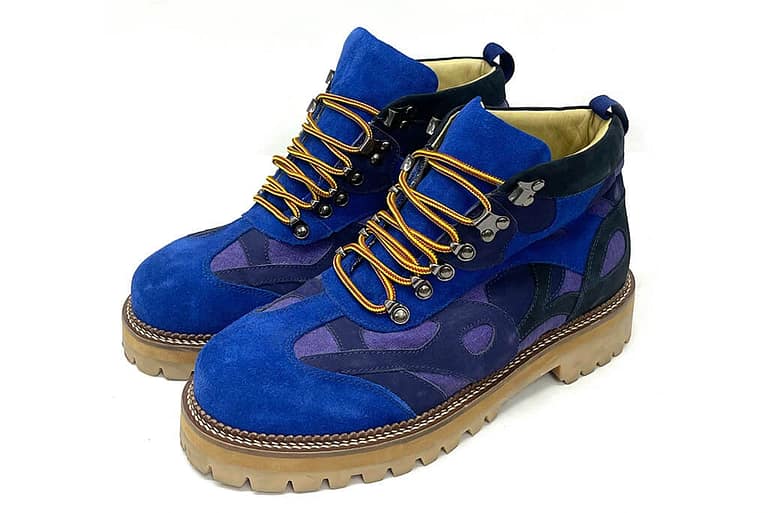 There were plenty of buzzy moments (and footwear highlights) at Paris Men's Fashion Week Men's last month. But no name was buzzier than KidSuper — just ask the boldface names that served as both emcees and models at the brand's fall winter 2023 show, held at the Casino de Paris.
"I believe his brain thinks differently. Perhaps his brain is even wired differently," said Tyra Banks backstage of the brand's designer Colm Dillane, just before walking out onto the runway-slash-standup comedy stage. Banks, who hosted the live comedy show-themed event, added that not only is Dillane a "magician" in terms of design, but he's also a "warm" and "connected" person.
It was this out-of-the-box thinking that caught the attention of LVMH, which presented Dillane the LVMH Karl Lagerfeld Prize in 2021 (the first American to win the honor) with a 150,000-euro award and a year mentorship attached to it. It was also what brought the designer to Louis Vuitton for a chance to guest design the fall/winter 2023 men's collection alongside a collective of other creatives.
Dillane, who has gone by the moniker KidSuper for all of his creative projects since 2012, launched his brand as we know it now in 2018. The New York City native, who attended Brooklyn Tech high school and New York University before embracing fashion full-time, started making T-shirts when he was in high school.
After two seasons of being rejected from the Paris Fashion Week official schedule, the Brooklyn-based designer's big break came with KidSuper's spring 2021 season, when he was finally given a slot on the official calendar.
The show, done virtually due to COVID-19, was an animated claymation runway presentation that "featured" Salvador Dalí, Naomi Campbell, Stephen Hawking, Pele and more. "This show earned us comparisons to early Raf Simons's youthful milieu and Schiaparelli's surrealist sensibilities," Dillane told FN.
The same "Everything's Fake Until It's Real" collection also caught the attention of Rei Kawakubo, founder of Comme des Garçons, who added the brand to her Dover Street Market stores. Fast forward to today, and KidSuper can be found globally in a select group of retailers like Ssense, LuisaViaRoma, Saks Fifth Avenue and Selfridges.
KidSuper is also a celeb favorite, with the label being seen on the likes of Jay-Z, Lewis Hamilton, Dua Lipa, Chance the Rapper, Nick Jonas, Pete Davidson, Jack Harlow, Erykah Badu, Kodak Black, Post Malone and many more.
Dillane's love for unusual runway presentations continued last season with an ambitious and witty live auction, where audience members bid on the original on-canvas compositions just as the matching garments crossed the catwalk, demonstrated how Dillane mixes his love of art and fashion.
This clever take on fashion presentations brings us back to this season, which saw Banks, who changed looks 10 times during the one-hour stand-up comedy event, joined on stage by eight performers. Comedians Yvonne Orji, Jeff Ross, Stavros Halkias, Andrew Santino, Andrew Schultz, Theo Von, Fary and Matteo Lane all took the stage at the Casino de Paris performing in KidSuper's latest collection.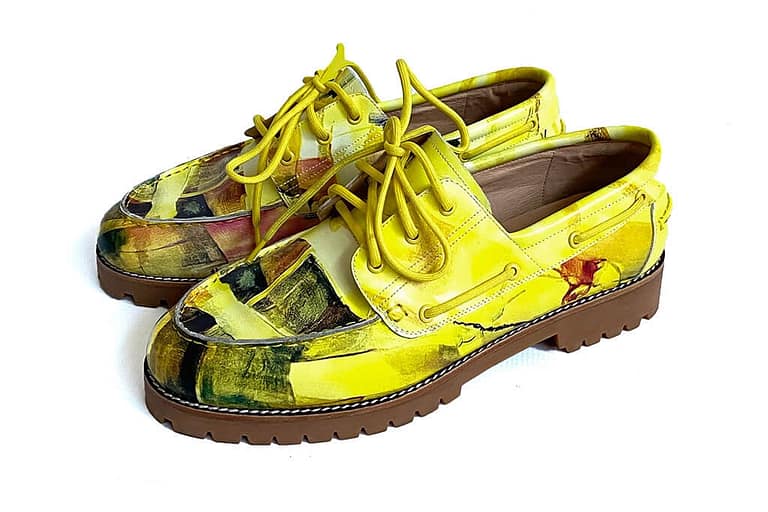 "Your clothes are a conversation starter," Ross joked on stage during his comedy set. "And that conversation usually starts with: "What the f*** are you wearing? And how do I get that?"
Ross, of course, was referring to KidSuper's statement-making clothing and accessories, which is anything but understated. Some of the label's most recent buzz-worthy styles have been Dillane's "Kissing" series of pieces seen on trench coats, puffer jackets and handbags. As the name suggests, the designs are made to resemble two people kissing when they are fully closed.
As for footwear, KidSuper teased new shoe collaborations with Stuart Weitzman and Brazilian bootmaker Cocker Shoes at his January show. Dillane's painted loafers are also hot seller as well as his shoe collection with Suicoke.
Looking ahead, Dillane said he is focused on scaling up the KidSuper team in 2023 to support several new projects coming soon.
"In 2023, we have several exciting projects planned, including an expansion of our art, styles, and points of sale including the opening of the KidSuper Creative Factory in Williamsburg [Brooklyn] and new collaborations," Dillane added. "It's a year to look forward to."
Lorem ipsum dolor sit amet, consectetur adipiscing elit. Ut elit tellus, luctus nec ullamcorper mattis, pulvinar dapibus leo.The news from FN Dalily